Titan Platform
Titan® is a multifaceted and market-proven iGaming platform built to support the needs of the most demanding and successful operators. The key components of Titan come together to build a scalable, flexible and powerful solution for operators.
Anchor link:
CORE (#core)
CORE
Titan® CORE is the heart of the platform. It integrates all the modules of the system including; Front End, Payments, Games, Hardware Hosting and the Back Office.
CORE also performs the main operational functions for the site including; Responsible Gaming, AML, Risk and Fraud, Campaigns, Loyalty, Player Registration, Account Management and other features.
Anchor link:
Front End (#front-end)
Front End
The Frontend application is based on ReactJS, MobX and MaterialUI libraries on the client-side and runs on NodeJS on the server. Operators can provide their own Frontend or choose from Finnplay's customisable templates.
Anchor link:
Back Office (#back-office)
Back Office
The Back Office interface is used to operate and monitor the iGaming business. In the Back Office, users can set all the parameters for the gaming site including:
| | | |
| --- | --- | --- |
| Dashboards | Help Desk | Campaigns |
| Tournaments | Player Segmentation | Blacklists |
| Agent managment | Payments | Game transactions |
| Risk & Fraud / Alarms | Reports | CMS |
| Configuration | Administration | Exclusion |
Anchor link:
Database (#database)
Database
The technology is built on top of a MySQL server. In the redundant setup, a MySQL Master-Slave setup is used. MySQL Master-Slave setup requires two database instances running on different servers.
Anchor link:
Games (#games)
Games
The platform has ready implementation APIs for the majority of the leading 3rd Party game providers. The platform is extremely flexible to integrate any 3rd party content. All providers and games are working under a single wallet-API so the use of games is fast and easy.
100+ Game Providers!


Anchor link:
Payments (#payments)
Payments
The Titan® platform interfaces with external Payment Service Providers via a well-defined API. The role of a Payment Service Provider is to manage all connections to financial institutions such as banks, credit card companies and clearinghouses.
80+ Payment Providers!

Anchor link:
Third Party Services (#third-party-services)
Third Party Services
Titan® has ready-integrations with dozens of leading providers of third party services, including; SMS providers, marketing tools, AML / KYC, Risk and Fraud Services, Exclusion lists and Affiliate programs.

Anchor link:
Engagement Manager (#engagement-manager)
Engagement Manager
The Engagement Manager is an optional tool built to help optimise return on investment by combining smart player segmentation with campaign automation and real-time analytics. With this tool, iGaming operators can create custom player groups, segmented by behaviour and deliver automated and timely messages, campaigns and bonuses over API.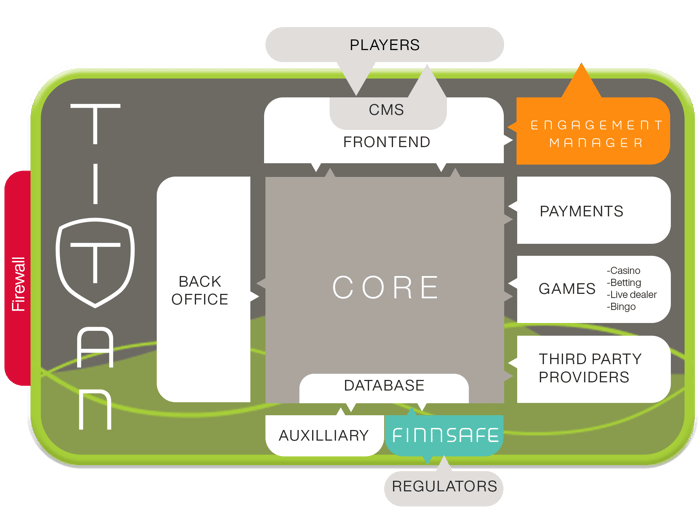 Features
Titan® is loaded with cutting-edge features and designed for maximum flexibility, compliancy and customisability.
Open Platform
Titan® is an open platform, meaning it is designed to integrate any and all the major games, payment processors and software providers. Finnplay is not affiliated with any specific supplier so our operators can choose from among all the top providers in the industry. Also, we are constantly adding new integrations at our partners' request.
Responsible Gaming
Finnplay is a leader in Responsible Gaming technology. Titan® has integrated RG tools that detect problem gamblers, enable limit setting and self-exclusion, then activate the required procedures. The RG features also work across multiple brands.
Custom Development
Finnplay offers customer-driven development and features. Our motto is "Strong Enough to Bend", meaning our technology is both solid and flexible. We understand that every operator has their own needs, and our team is dedicated to supporting Agile Development with fast, market-driven improvements.
Campaigns and Loyalty
Extensive selection of campaigns award player activity with rebate, cashback, free spins or promo. Integrated loyalty program with customisable tiers and awards.
Tournaments
Boost engagement by gamifying your site with Tournaments. Players compete for extra bonuses and rewards with on-site leaderboard just for playing selected games. This feature works across multiple providers and titles.
Business Intelligence
Using Finnplay's powerful Back Office, operators can generate insightful reports and real time data to better understand and maximize the site performance. Reports cover all major aspects of the iGaming business including player activities, payments, game transactions, affiliation and much more.
Player Account Management
Record and segment players details and profiles. Offer seamless wallets with real money, bonus money, virtual money and free spins.
Rest API
Interface your front end easily via RestAPI or use our fully responsive technology.
Compliant
Titan® can offer hosting in ISO 27001 certified facilities. The Titan® platform is licensed, recognised or compliant with several jurisdictions including UK, Malta, Madagascar, Cameroon, Sweden, Spain, Netherlands, Lithuania, Ukraine, Germany, Denmark, Hungary, Belgium, Romania, Bulgaria, Mexico and Estonia.
References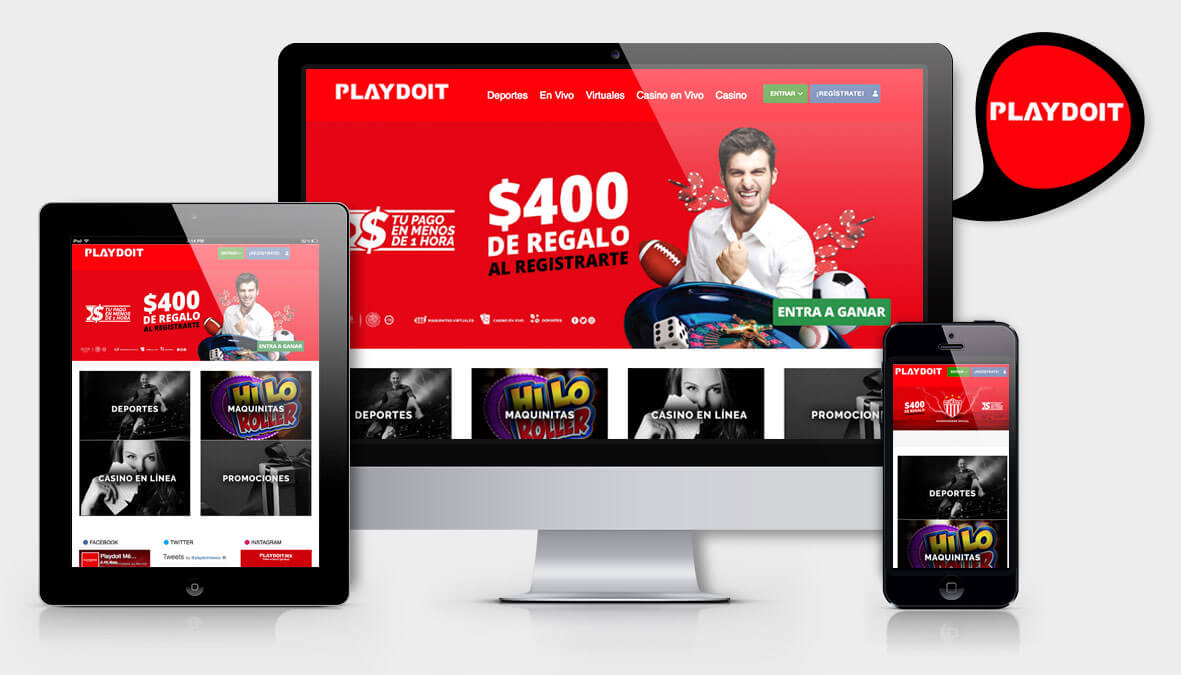 Playdoit.mx
"This one is easy, it's simply the best option in the market since it's a company with ethics, sense of responsibility and trustworthiness, if we add that it's avant-garde and is constantly updating under the best worldwide quality norms and standards, We think it's not rocket science to choose it". - Roberto J. Müller I, CFO