Coming regulatory changes in Finland and Sweden highlight Nordic opportunity
The Finnish iGaming market is the only EU member state which, to date, still operates an exclusive online gambling monopoly model with sole-licensed operator Veikkaus. This well-established online market is estimated to generate over 2bn Euros annually, however as shown in Veikkaus' recent bi-annual report, mounting channelisation issues mean Veikkaus now receives less than 50% of the entire country's online traffic. This sparked calls for change across the board and a switch to a more competitive, licensed framework, using Sweden and other European Union countries as examples to follow.
As reported by the largest newspaper in Finland; Helsingin Sanomat,
'It is no longer necessary to worry about the Veikkaus monopoly being broken. It's already broken'.
Gaming has shifted and will continue to move online – beyond the states' control.
In order to combat the continued loss of potential tax revenue to offshore entities, the government leaders are planning a major framework reshuffle. This spring, after the impending parliamentary elections, it is widely expected for all parties to pass new laws to effectively dismantle the iGaming monopoly and switch to a licensing system. However, the lottery and retail gaming machines would remain with the state.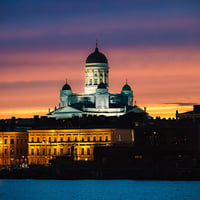 Speaking recently, The Minister of Ownership Management, Tytti Tuppurainen, said "There is a unified view within the government on giving up the Veikkaus monopoly".
Furthermore, Tuppurainen has now commissioned a study into the potential merits of an iGaming licensing system, with strict instructions for it to be completed as soon as possible. It's hoped that the investigation's findings will be ready for the newly forming government to take into account when preparing the new program in the spring. This will enable them to implement the proposed changes which are projected to be introduced around 2025.
Jaakko Soininen, Managing Director of Finnplay, a Finnish iGaming platform supplier says,
"The potential liberalisation of the Finnish gaming market will present a tremendous opportunity for experienced international operators looking to do business officially in Finland. As a leading Nordic-based supplier of iGaming platform technology, Finnplay intends to play a positive role in helping shape the new public policy in our home country by sharing our expertise from regulated markets and industry knowledge with policy-makers."
It's difficult to know exactly what to expect from the upcoming regulatory changes. Finnish policy makers will also be keeping an eye on the roll out of the B2B license scheme coming into force in Sweden. Markets like the UK, Netherlands and Denmark have successfully implemented regulatory frameworks that Finland will also learn from. A positive of being a late mover is that one can pick and choose particular elements that help design a structure that best suits Finnish preferences. Responsible gambling will also be high on the agenda, again, similar to the benchmark set in these aforementioned regulatory frameworks.
In December, the Riksdag approved the move to refresh the online gambling supplier licence process. The next step is opening the B2B application process on March 1st 2023 and approvals will be necessary by July 1st with the mission of improving channelisation rates. A licence fee of SEK120,000 (around €10,000) has been set and around 70 licences are expected to be granted for those operators working in the regulated market.
This is all great news for international operators hoping to grow their Nordic audience. Despite the change in government, Sweden is introducing a clearer framework and now Finland also has the potential to offer significant expansion opportunities. Most importantly is both markets are giving domestic customers increased choice and maximising their ability to enjoy iGaming in a safe environment.